Dec 14
-
Orcutt Christmas Parade
More
Orcutt Christmas Parade
12/14/2019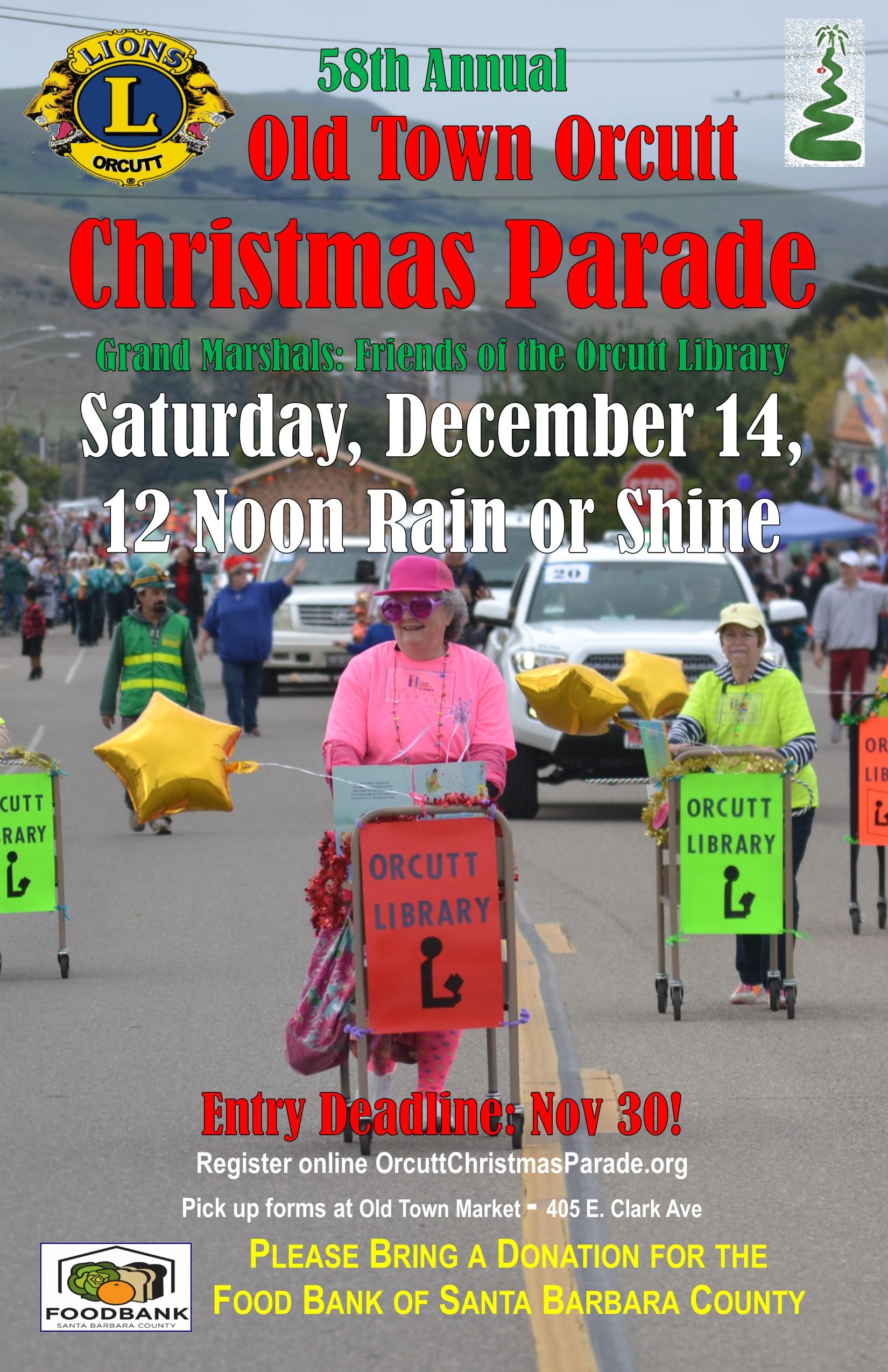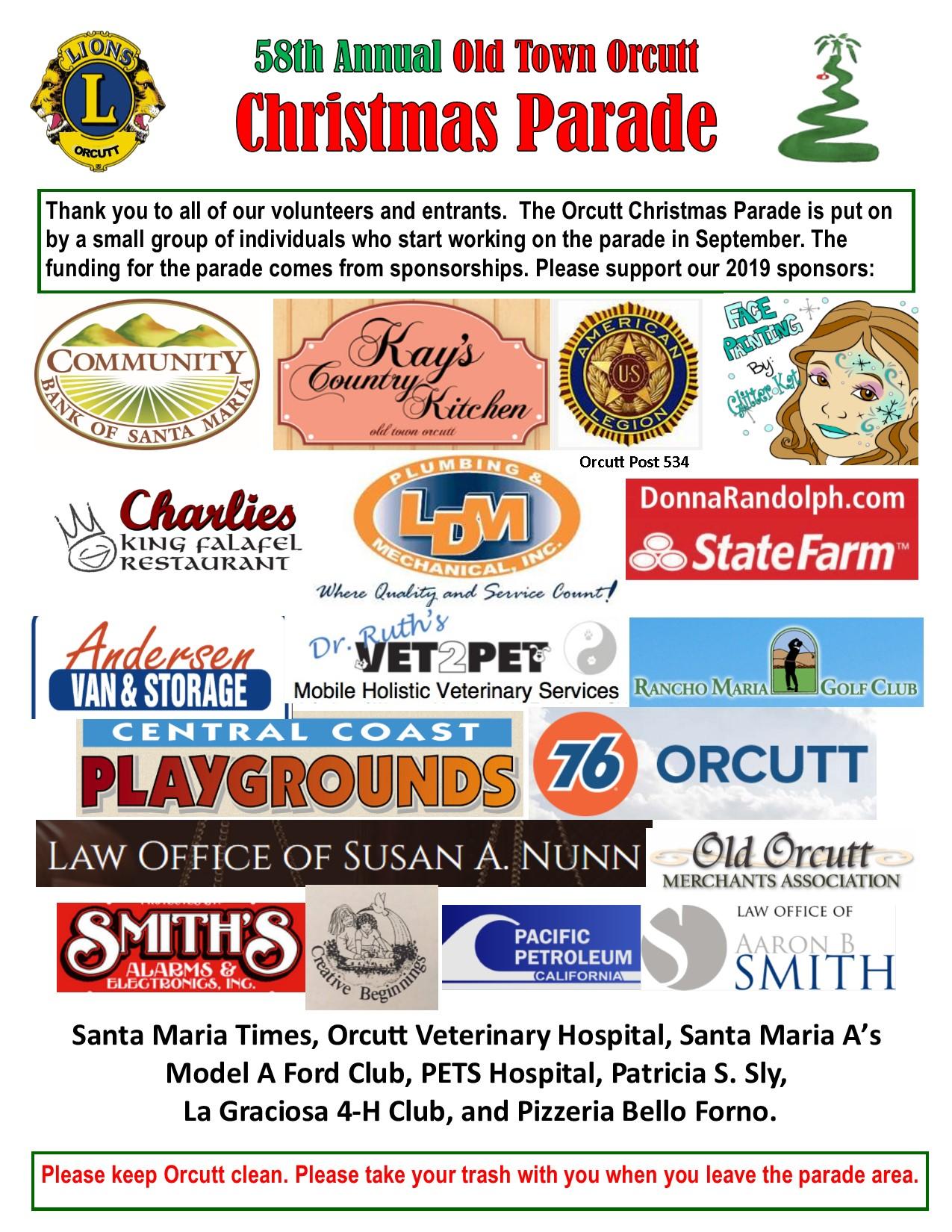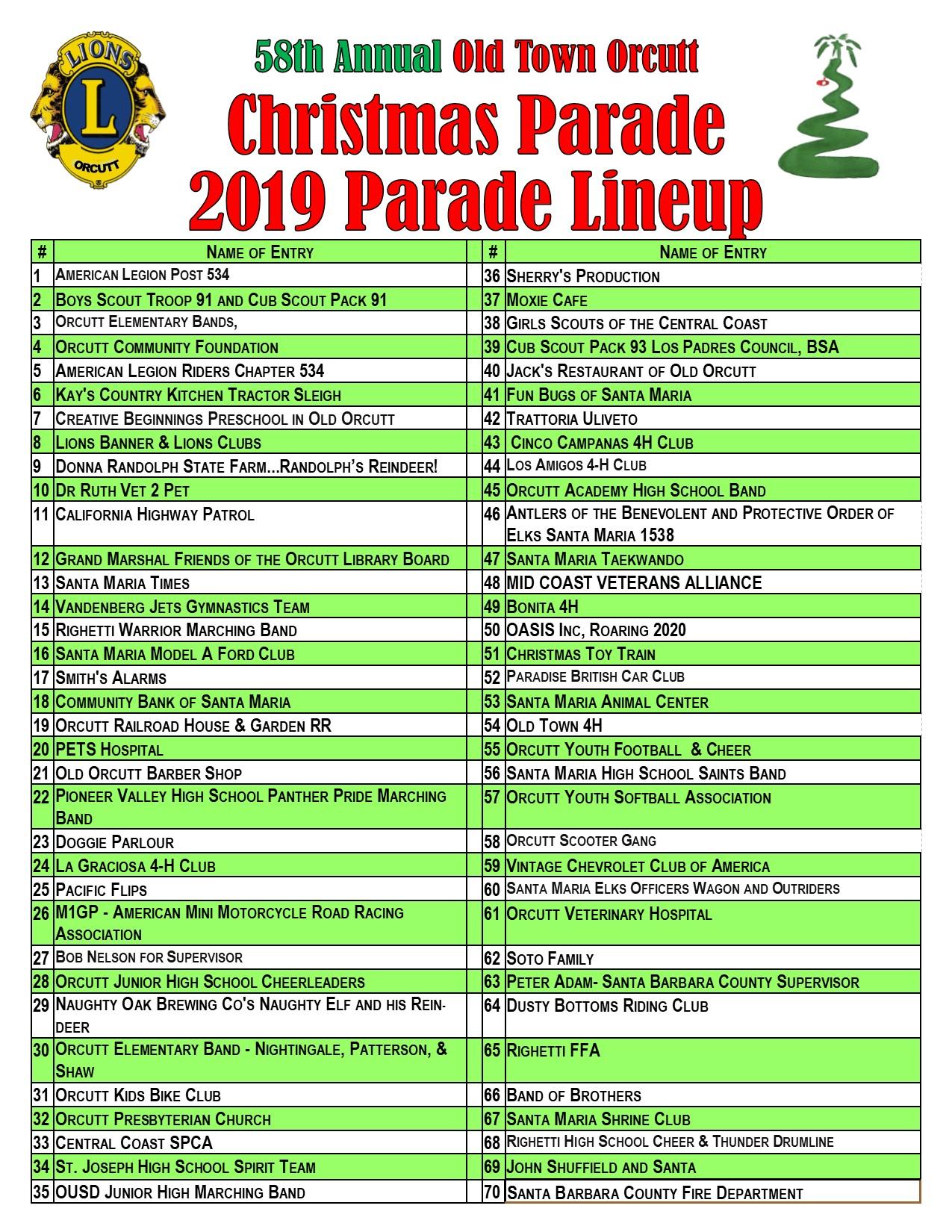 Thank you for registering for the 2019 Old Town Orcutt Christmas Parade. Below is important information regarding the parade. Please review it and share it with the people who are participating on your entry.
Please note two important changes this year:
1) Please do not throw/hand out candy canes or starlight mints to the crowd.We know it's a Christmas Parade but they cause a huge mess. The candy gets crushed and ground into the street. The little plastic envelopes are all over the street. Every year we get complaints regarding the mess. We want to allow candy tossing, but we need to eliminate the candy canes.

2) Please do not leave trash in the staging area or parking lots. We have had complaints from residents and the church about trash being left. Please be nice and leave your area cleaner than you found it.
IMPORTANT PARADE DAY INFO:The Parade takes place rain or shine at noon On Saturday, Dec 14. 2019

Check-in starts at 10:30 and ends at 11:30. Check- in at the tent located on the North side of Rice Ranch and Dyer. Late arrivals will be pulled from the parade lineup.

Enter the staging area from the east on Rice Ranch Road.

If you are part of a group, only one person needs to check-in. You will receive entry number placard at check-in.

Traffic will be extremely heavy. Only vehicles that are in the parade will be allowed in the parade staging area. Be sure to tell your participants that they will need to walk to your groups starting position.

Please follow the instructions of the parade officials regarding traffic and parade flow. Keep a safe distance between you and the next entry but do not leave a gap in the parade

Small children have a hard time keeping up with the parade. For this reason, we require children under five to be in wagons, strollers, or on a bike or scooter.

You may toss candy as long as you do not slow the parade down.

No one is allowed to pass out flyers along the parade route. Anyone caught passing out flyers will be banned from future parades and fined a $500 cleanup fee.

All entries with animals must provide their own pooper-scoopers.

Please be sure to bring water for your group.

When you finish the parade route, you must head back to the staging area on Rice Ranch Road before you disband your group. We need to keep the roads open because the rest of the parade is coming behind you. Do not cause a traffic jam at the end of the parade.

THE PARADE WILL TERMINATE AT THE INTERSECTION OF CLARK AVENUE AND TWITCHELL STREET - all entrants are required to return to the Rice Ranch Road Staging area to conclude their participation for traffic control purposes!