Berto Van Veen Construction
220 E Clark Ave # C
Old Town Orcutt, 93455
805-937-3928
Visit Website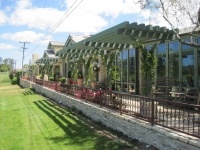 Berto van Veen Construction has been breaking new ground in the fields of design and construction since 1979. Berto Specializes in commercial projects, custom homes of every size, and renovation of rooms and homes alike. From old-world charm to contemporary flair, he approaches every project with an unwavering commitment to quality and customer satisfaction.
"We have never tried to be one of the biggest construction companies in the Santa Maria Valley but we always strive to be one of the best. That is why we surround ourselves with the best local subcontractors and suppliers in our area."
Berto van Veen was raised in Holland, where he learned carpentry at the age of fifteen. He was already a heralded craftsman by the time he moved to American in 1975, and his work in California has cemented his legacy as a master of quality and innovation. Refined European tradition is evident in Berto's design and craftsmanship, and his work maintains a standard of quality that is unsurpassed. Berto's designs are also unmistakably forward thinking, and his buildings are as diverse as his clientele. He routinely utilizes recycled products, green energy solutions, and other environmentally friendly practices for results that are both practical and beautiful.
Extra Images