Old Town Orcutt Revitalization Association (OTORA)
120 East Clark Ave.
Old Town Orcutt, 93455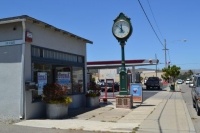 Old Town Orcutt in northern Santa Barbara County is a perfect example of the fact that one does not need California style redevelopment districts to accomplish the same goals. Old Town has a history that predates its founding in 1902 as a cattle and oil town. A group of local residential owners, property owners, and business owners joined together to form the Old Town Orcutt Revitalization Association when they saw the need for change in their run down community. The group of about 150 individuals and businesses have worked with and at times cajoled the county into living up to the outline set forth in the Orcutt Community Plan for the Old Town Cultural Center. First, the zoning was changed to allow buildings to sit on the front property line as was the custom in Old West communities. Good old private enterprise, capitalistic spirit, a common western theme, and hard work by this nonprofit group have paid off handsomely for the Old Town area.

After this initial change in zoning, the group has sponsored a string of projects to beautify the community, including designer trash cans and benches, a community mural, western style planters, redesigned street parking, 30 plus memorial trees, a large 17 foot community clock, and a model pedestrian friendly street intersection. The group is now working on a community parking lot tentatively to be donated by a local oil company.

These efforts have paid off with many private individuals investing in the Old Town Cultural Center. New and remodeled commercial units now total more than 50, with eleven new restaurants with more to come. The hustle and bustle has returned. People obviously enjoy walking from one restaurant and shop to another, thanks to the efforts of the association. Old Orcutt is now the in place to dine on the central coast. Name your taste in foods and cuisine and we have it.

The once inactive Merchant's Association is now vibrant and active in the community with a full roster of members from the burgeoning population of new shops, professionals, and restaurants. It will undoubtedly take on a larger role in the community in future years.

Redevelopment can be accomplished without massive layers of bureaucracy and funding, if community members take the initiative and encourage small property owners and businesses to invest in an up and coming neighborhood. Communities do not have to sell their souls to large out of town developers to improve. Even Santa Barbara County now sees what a shining example they have and have prepared a video to share with other cities and communities.

Join with us to dine, invest and conduct business in Old Town Orcutt by reading on in this website about each business located in this vibrant new community. Old Town Orcutt will take you back to its founding as an oil and cattle town of the late 1800's and early 1900's. It is an experience we want to share with you!