Deja Vu Antiques at the Loading Dock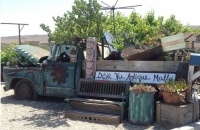 Deja Vu Antique Mall at the Loading Dock is open! Antiques and fun stuff to buy. Along with Wendy Steller's excellent eye for great buys and merchandising, she will be joined by thirty premiere dealers. "There will be something for everybody." She also ads "The view from the deck is the best in all of Old Orcutt and the outdoor patio is a great place to relax." You can also expect many great venues to take place in the parking lot, much like we've done here at Old Town Market for the last few years.
Store hours will be 10:00 am to 5:30 pm on Monday, Wednesday, Thursday, Friday and Saturday and from 11:00 am to 4:00 pm on Sunday. Deja vu Antiques will be closed on Tuesdays and certain Holidays. The old building has some nice updates which include more space, fresh paint everywhere, new doors and windows, fresh plantings outside and loads of space to occupy the fantastic new "old" merchandise.
Extra Images