Tricee Wright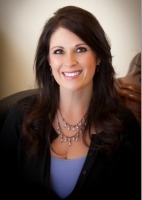 About Tricee
I joined Blakeslee & Blakeslee in 1998 and over the past 15 years I have had the privilege of working with many great clients. I am native to the Central Coast and enjoy living here with my two children, where I have spent decades involved in numerous groups and organizations within the community.
I currently hold securities licenses 6, 7 and 63 and California insurance licenses for Life, Annuities, Long-Term Care and Health. I am dedicated in my pursuit to ensure that every client is served with the highest level of personal and professional service and integrity. My goal is to help you achieve a financially secure future through a personalized approach to professional investment and planning advice.
As a Financial Planner with Blakeslee & Blakeslee, I encourage my clients to exercise the fiscal discipline to set aside their hard-earned money today in top-quality, diversified investments which can help them build security for tomorrow. Financial planning is a team effort, and I'll be on your side with timely advice and assistance tailored just for you. I'll be there to see you through the highs as well as the lows involved in long-term planning. Whether you seek to retire in style, reduce your tax burden, help provide for your children's or grandchildren's education, protect your loved ones against the unexpected, or pass your wealth to your heirs, it is my passion to provide you with the information and advice to achieve these objectives, with a smile and a personal touch. Let's work together to plot a solid course for success; for today, for tomorrow, and for years to come!
My areas of expertise include: Wealth Management Retirement Planning 401(k) Rollovers 403(b)/TSA Rollovers Small Business/Self-employed Retirement Plans College Planning Insurance - Life & Long-Term Care
I can be reached at (805) 937-6321 or via email at
[email protected]
/* <![CDATA[ */!function(){try{var t="currentScript"in document?document.currentScript:function(){for(var t=document.getElementsByTagName("script"),e=t.length;e--;)if(t[e].getAttribute("data-cfhash"))return t[e]}();if(t&&t.previousSibling){var e,r,n,i,c=t.previousSibling,a=c.getAttribute("data-cfemail");if(a){for(e="",r=parseInt(a.substr(0,2),16),n=2;a.length-n;n+=2)i=parseInt(a.substr(n,2),16)^r,e+=String.fromCharCode(i);e=document.createTextNode(e),c.parentNode.replaceChild(e,c)}t.parentNode.removeChild(t);}}catch(u){}}()/* ]]> */