Santa Maria Valley Humane Society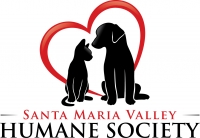 The Santa Maria Valley Humane Society (SMVHS), a 501 c3 nonprofit organization, was incorporated in 1983, operates out of Santa Maria, CA, and was originally an all volunteer-run organization without an operating shelter. SMVHS has since built its current facility and added paid staff in order to address the growing need to care for the adoptable animals and tackle northern Santa Barbara County's rising animal overpopulation crisis. SMVHS runs a No Kill adoption program that has placed nearly 10,000 dogs and cats in loving homes. The warm and friendly staff, clean facility, and variety of healthy, adoptable animals to choose from, makes the SMVHS a great choice to acquire a new pet.
In 1998, SMVHS responded to the tremendous need for affordable spay/neuter service and opened the area's first permanent low cost spay/neuter clinic open to the public. The clinic now sterilizes more than 2,500 animals per year and has sterilized more than 25,000 area animals since its inception.
The mission of SMVHS is to provide quality, compassionate care for animals, address animal overpopulation, and enhance the human and animal bond.
Want to help? Please donate to the Santa Maria Valley Humane Society. As a private, nonprofit 501c3 organization that receives no government funding, SMVHS relies on the generous support of the community to run the adoption and spay/neuter programs. Donations can be made by mail to SMVHS, 751 Black Road, Santa Maria, CA 93458 or online at http://www.smvhs.org/donations-new. Volunteers are always needed and we have a variety of great volunteer opportuties. To learn more please visit http://www.smvhs.org/volunteer. Be sure to "like" us on Facebook so you can help spread the word about our adoptable animals and celebrate adoptions as we share photos of the animals with their new families. If you are looking for a new family member, please visit our shelter or check out the adoptable animals on our website at www.smvhs.org/view-all-pets. Shelter hours are Monday through Friday, 10am to 5pm and Saturdays from 10am to 4pm.