Winsor Properties
125 East Clark Ave
Old Town Orcutt, 93455
805-938-7681
Visit Website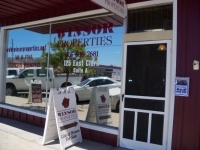 The American dream is home ownership. Everyone at Winsor Properties is dedicated to making your dream a reality. Our real estate professionals have years of experience. We know that buying or selling a home can be one of the largest financial decisions you will make. You can trust Winsor Properties to do it right. Our experienced real estate agents take a personalized approach to service and our office is celebrating over 20 years in business as one of the independent real estate offices. Our agents go above and beyond expectations and our level of service is outstanding. We have also created an in-house system of checks and balances to make sure we go that extra mile for our clients. We base our business on repeat and referral clientele and we should be your resource for buying and selling real estate.
Below on the right is our featured property 2248 Caballero, Santa Maria, Ca. 93455, listed for $352,500 along with our Employee of the Month, our Owner/Broker, Iris Schedler.
Please stop by our office or call us with questions at 805-938-7681. Thanks!
Extra Images